Welcome to your free blog space. Not a partner? Join Us.


John Wilson - Founder of the Solar Village
December 23, 2011
Planting Vertically on Shortest Day of the Year
Just a couple of weeks after having planted some cherry tomato plants I've got roughly fifteen small shoots coming up. Of course we are just passing through the winter equinox, the shortest day of the year, and now the days will get longer. Thank goodness. Hopefully these cherry tomatoes will actually grow and produce eventually. Stay tuned.
John Wilson - Founder of the Solar Village
December 19, 2011
Planting Vertically
Last weekend I found some old cherry tomato seeds, as well as some basil seeds, so I decided to plant them from hanging pots to keep them close to the window in our greenhouse. Today there are some little sprouts coming up despite the dull mid December weather we've been having. I put some compact fluorescent lights right beside the pots. I've got these lights on a timer to extend the light hours hoping to keep these new sprouts thinking it is closer to spring than it is.
John Wilson - Founder of the Solar Village
June 26, 2011
Vegetable Garden Planted
Today I completed planting the vegetable garden. This year I am experimenting with an area where I've used Permaculture techniques. Where the white circle things are located I've planted tomatoes on top of compost. Below the compost are some old jean pants that keep the weeds down. Straw is laid on top to reduce weeds as well.
John Wilson - Founder of the Solar Village
May 12, 2011
Planting a small fruit tree orchard
 We live in southeastern Ontario Canada so planting fruit trees anywhere other than Niagara takes some special care. They don't call it the great white north for nothing. So, we plan for trees that are suitable for zone 3 at a minimum. Fruit trees are not available for colder zones 2 and 1. As you may have guessed zones 4 and 5 take you down south of the 49th parallel.




Now that we know we live on zone 3 we see that peach trees appear to be out. We'll plant apple, pear and cherry trees. With a piece of paper I plan out our tree placement around the house on the gentle slopes to ensure good water drainage. Our space allows for about six trees maintaining about twenty four to thirty feet between trees as required to give them enough space for their full grown size.
Off to the tree nursery to pick the healthiest trees we can find. We decide on three different varieties of apple thees (macintosh, liberty and granny smith) as they indicate a tolerance for our zone. We are hoping the close proximity to our house will provide a little extra protection from weather extremes allowing us to get away with these desirable varieties that we like very much. We choose a Bartlett pear tree and one other type. A variety of types is required for pollination. In addition we select a sweet cherry tree that is self pollinating. We carefully lay the six trees in the back of the Prius along with a big bucket of bone meal that we'll use to promote good root growth.
Now for the fun part, planting the orchard. We mark out the six spots we will plant by digging a small marking hole, checking each location for full sun and good drainage. We dig a four foot diameter hole for our five foot trees growing in a bucket. We then sprinkle some bone meal around the full area that the tree will grow into, about twelve feet in diameter for our semi dwarf trees. Using our compost prepared last year we mix a wheel barrow full of half compost and half soil. We place the tree in the prepared hole, fill in with our mixed compost and soil mix, level, and then fill in the top layer with removed soil. Around the four foot diameter of our hole we create a small retaining mound to keep water from running away too quickly. Finally, we cover the four foot circle around the tree with a layer of straw (a gift from a sister in laws Halloween decoration). Water throughly. Repeat for remaining five trees. Done.
Next we'll get into maintenance including pruning, fertilization, and protection from pests and disease.
John Wilson - Founder of the Solar Village
February 20, 2011
Wilson MicroFIT Solar PV
Welcome. 17 years ago we set out on a journey to create a home that was sustainable for our children (my son Ian was born in 1992 and my daughter Claire was born in 1994). Part of that plan was to make the house a renewable energy power plant elliminating the need for any non-renewable energy sources. By 2001 we had built our award-winning sustainable natural home using local straw bales for the north wall, a green roofing system we custom designed, and passive solar design (click here for all the details on the design of our house).

Then in 2002 we selected Solera Energies to start building our renewable energy system in the form of a 1 kW Bergey wind turbine and a 400 W Siemens solar PV array in a net meter (running the meter backwards) configuration. Then in 2009 again working with Solera we added a 1.2 kW Sharp solar PV array on the Ontario renewable energy standard offer program (RESOP) for which we were being paid 42 cents/kW for 20 years.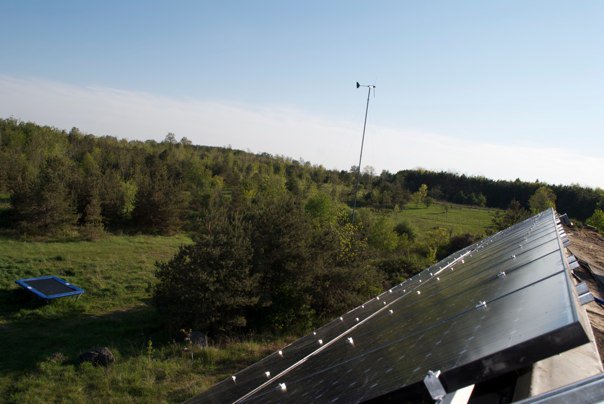 Finally, to complete the 100% renewable energy goal and in order to turn the house into a power plant (generating more than we consume) we've added an additional 6 kW of Sanyo solar panels that complete the passive cooling awning system that has always been the planned design of the house. 5 kW of the new Sanyo panels and the 1.2 kW Sharp panels are now combined on a MicroFIT (the 1.2 kW RESOP system was grandfathered into the MicroFIT program upon request) contract for 20 years at 80.2 cents/kW generating about $500/month in income (the remaining 1 kW and the original 400 W Siemens panels will be used for some "off-grid" research and development projects related to an autonomous aquaculture system being designed and built for the greenhouse area in the house as well as an electric sailboat conversion).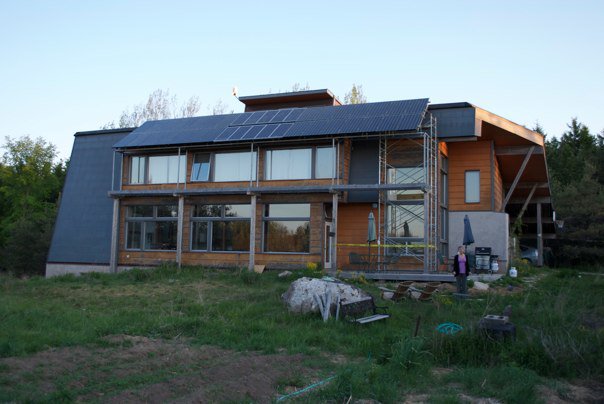 Ultimately the goal is to switch to an electric car next year (finally it should be possible to buy them from your local Mitsubishi, Toyota, Chevy, Nissan, and other major manufacturers with the Ontario government giving you a $10,000 rebate as an incentive) to combine with our 35 foot 1974 C&C sailboat (floating cottage) which is being converted to electric so that both home, floating cottage and transportation are 100% powered by renewable energy power plants.
Bottom line is that installing a solar system on your roof offers one of the most important investments you will ever have the opportunity to make. You will make a better than average return on your investment while contributing in many ways to a sustainable future the value of which is beyond measure.
By joining thousands who have already put solar on their roof you become part of a movement that provides hope for our children. It has been estimated that if just 10% of us cover our rooftops with solar we could power the entire country...specifically the United States and Canada (who consume substantially more than European countries per capita). Imagine millions of us, making a reasonable investment of $200/month ($20,000 loan over 10 years) that will double our money in twenty years, while generating electricity without any pollution or fuel costs. While 90% of us want to protect the environment it is my belief that at least 10% of us are willing to invest now to make it happen. That gives me, and should you, a great deal of hope. We can do this.
So, now it is your turn. Let us get started. Here is what I suggest:
Before you go to the next step, check out Renewable Energy essentials. This documentary video shows you in about ten minutes the background of feed-in tariffs (FIT) and why they make so much sense.
Blog Archive
Dec 23, 11 -
Planting Vertically on Shortest Day of the Year
Dec 19, 11 -
Planting Vertically
Jul 18, 11 -
Storage for renewable energy
Jun 26, 11 -
Vegetable Garden Planted
May 12, 11 -
Planting a small fruit tree orchard
Feb 23, 11 -
Greenhouse herbs start to sprout
Feb 20, 11 -
Wilson MicroFIT Solar PV
Feb 10, 11 -
Starting to use our greenhouse with herbs and vegetables
Feb 09, 11 -
Biomimicry in action, solar powered greenhouse restorations
Feb 01, 11 -
Oil prices will exceed $200 soon